- WRESTLER'S APPEARANCE ° 10 -
"Wrestler's Appearance" est une chronique hebdomadaire basée sur votre apparence si vous deviez être catcheur à la WWE ainsi que sur votre gimmick.
Le principe est simple, vous devez répondre aux 17 questions que je vous pose + la question dite " Wicked ". Pour y répondre, vous pouvez vous aider parmis les Superstars de la WWE ou d'un autre environnement.

Chaque semaine il y aura un membre qui participera à cette chronique.

Pour répondre aux questions, vous disposez d'une question de "démarrage" qui est :
- Si tu devais être une Superstar de la WWE, quel serai ...]

Mon invité cette semaine pour ce Wrestler's Appearance ne possède aucun lutteur, mais c'est le boss de la WEL, c'est...
ROSS
1 - Ton nom en tant que lutteur ?
Black "Fench'iize"
2 - Ta taille ?
1m83
3 - Ton type de musculature ?
Bonne, légère. Pas un pété de stéroïdes quoi
4 - Ton style de catch ?
Technique tout en ayant un arsenal Aérien
5 - Ta tenue ?
Un bandana à la Michael Tarver
Spoiler :
Un bas jogging Adidas avec un logo Nike
Spoiler :
6 - Ta coupe de cheveux ?
Crête/Dégradé
7 - Ton/tes coup spéciaux ?
6- T-Bone Suplex (Shelty.B Styles
)
Spoiler :
8 - Ton finisher ?
6-Paydirt (Shelty.B Styles
)
Spoiler :
9 - Ta musique d'entrée ?
Betta Have My Money (Une musique du jeu)
10 - Ton type d'entrée ?
Une entrée à la MVP
11 - Ta gimmick : Heel, Face ou Tweener ?
Avec un bandana à la Tarver tu ne peux qu'être Heel. Donc Heel
12 - Ta catch phrase ?
"I Like The Way You Walk, If You Walk In My Way"
13 - Ta Brand ?
14 - Ta ville d'origine ?
Si c'était français ayant un VISA américain : Miami
Si c'était français ayant un VISA à courte durée je mettrais : Paris
15 - Ton titre en tant que Champion ?
Titre US
16 - Ton partenaire par équipe ?
Si c'est un lutteur de mon choix : Shelton Benjamin
Si c'est un lutteur du Roster WWE actuel : Justin Gabriel (Heel)
17 - Ta partenaire mixte ?
Layla
18 - Ton adversaire pour Wrestlemania ?
L'adversaire type serait ... Daniel Bryan ou même RVD
Wicked Question
19 - Quelle divas pourrais être ta GirlFriend?
Question pour les ados, je passe mon tour
.: CAW :.
Spoiler :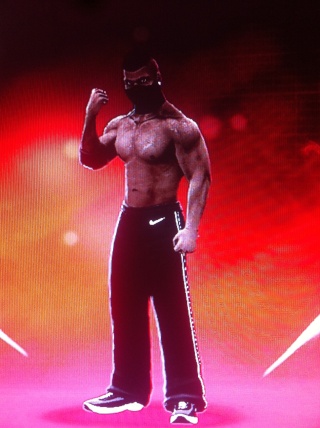 Spoiler :
| SEASON 3, 5, 6, 7, 9 &10 |
1x US Champion #David Otunga
King Of The Ring Winner 2013 & 2014  #DolphZiggler - #TheMiz
WEL Champion #CMPunk
Stable Of The Year 2013 #MEE
Tag Team Champion #TheMiz
3x WrestlingEvo World Heavyweight Champion #CodyRhodes - #SethRollins (2)
Champion du monde 2014 #Kane
Superstar de l'année #SethRollins
Feud de l'année #SethRollins
Second meilleur membre de la saison 7
1x Champion Intercontinental #BookerT
1x Champion Universal #RandyOrton
1x Champion Universal #SethRollins
Champion du monde 2018 #ChrisJericho